Whimsical designs with artisanal craftsmanship by ..... Loop the Loop, Ltd
Felted Flower Pin

How cute are these?
Wear them anywhere...on a coat, on a sweater, on a belt, or in your hair.
Place on your own purse.
Available in many different colors.
Handknit in 100 % Merino Wool to twice the finished size, then felted in hot water and detergent until it shrinks to size.
Sewn together and then a metal pin back is added.
Exact placement of leaves and shape of flower will vary.
...my most popular item.

Please go to SHOP to purchase...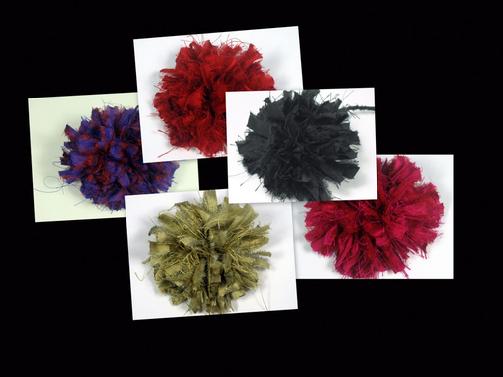 Flower Pins
Silk Flower Pins

Hand crafted using beautiful silk dupioni fabric.
Loose silk threads give an "artsy" look.
Tie tac pin used as a fastener.
Stunning on a jacket, coat, purse or scarf.
Same flower available on an adult size headband.

Approximate Measurements
4" wide X 4" high

(Tails may be snipped off if so desired)


Please go to SHOP to purchase...